Ben Morano serves as an Assistant Program Officer, Europe for the National Endowment for Democracy in Washington, DC. He holds a degree in Russian Studies and International Studies: World Politics and Diplomacy from the University of Richmond. He previously served an SRAS-arranged internship with Human Rights Watch in Moscow while studying foreign relations and Russian on a customized SRAS program.
SRAS: You've been working for the National Endowment for Democracy helping to administer many of their grants in Eastern Europe since 2010. How did you find out about this job and what exactly do you do there?
Ben Morano: After interning for Human Rights Watch during my time studying in Moscow, I knew I wanted to continue working on similar issues. I graduated from the University of Richmond in the spring of 2010 and after a few months of searching, I saw a posting for the Europe team and was lucky enough to get the job. In my current role at the National Endowment for Democracy, I manage grants to organizations mostly in Ukraine and Belarus for projects promoting independent media, human rights monitoring, government accountability, and rule of law. We receive proposals from organizations and, based on the current situation in the country and our own budget, determine which projects to fund. I manage a portfolio of grants, which means that I also do some travel to the region in order to meet with grantees, donors, and other organizations in-country. Through all of these activities, one of the biggest responsibilities is keeping up with news and events in the region.
SRAS: As someone who follows Ukrainian politics, I have to ask your opinion of what is currently happening there. Do you think that the events in Ukraine are likely to result in democratic change, undemocratic change, or no change?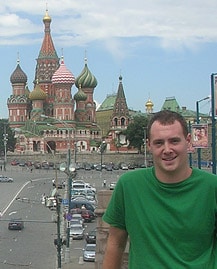 BM: With how quickly things are changing in the country, I think it is very difficult to say what is going to happen next. While far from certain, if I had to guess I would say that the events in Ukraine are likely to result in democratic change. I say this because I don't think Ukrainian civil society and the public will accept anything less. When the regime started using force against the protesters, that was a real turning point and now I don't think that the protesters will back down until Yanukovych resigns. At that point, I think there will be an opening for democratic change and I believe that civil society is well placed to take advantage of the opportunity. After the 2004 Orange Revolution, hopes for democratic reform in the country were high, but the results were very disappointing. I think both civil society as well as the opposition political parties learned a lot from their mistakes and that, given the opportunity, they will be ready to make the reforms a reality. That is not to say it will be easy. I think Yanukovych's actions have left him with few options, and at this point he has everything to lose by stepping down. Also, Russia has a lot invested in Ukraine and will not let it go easily. Especially after the Sochi Olympics, I think Putin will be more willing to intervene more forcefully. While I think things could go a number of different ways at this point, I certainly hope that there will be a positive outcome and I think there is great potential for that.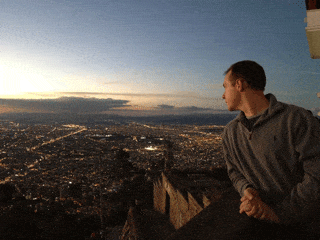 SRAS: Your experience abroad in Russia is fairly extensive. The internship with Human Rights Watch in Moscow was done while taking a customized course through SRAS studying foreign policy and Russian language. Why did you choose to do a customized program with us rather than one of our standard programs?
BM: One of the things that really attracted me to SRAS was its flexibility. Because of my undergraduate majors, I was only able to study abroad during a summer term but I still wanted to get as much out of it as possible. I was able to combine two SRAS programs in Moscow, which included courses on foreign policy, Russian politics, and language. SRAS also helped me to find my internship while in Moscow to further add to my experience. So while I didn't customize my program from scratch, I appreciated the opportunity to combine the standard programs offered into a longer one.
SRAS: That is something we are always happy to do. So, when you completed the Moscow program, you then flew thousands of miles away to Lake Baikal in Siberia to build ecotourism infrastructure. Why did you decide to make this additional stop in Russia before heading home?
BM: As I was majoring in Russian studies and my study abroad trip was most likely my only opportunity to travel to the country during my undergraduate studies, I wanted to try and get the most out of the 90-day tourist visa I got as part of my custom program. I knew the SRAS program finished up about 2 weeks before my visa would expire, so I did some research into different programs and opportunities available. I had always wanted to travel the Trans-Siberian Railway and after seeing the volunteer program with Great Baikal Trail, I thought it would be a great opportunity to see more of the country and while still doing something meaningful. Overall, it was a great experience and really added an extra dimension to my study abroad.
SRAS: How integral do you think your summer abroad was in landing your job with the National Endowment for Democracy?
BM: I think my summer abroad played a very important role in landing my job with the National Endowment for Democracy. While I had a good academic background for the position, I think my time in Moscow and well as my trip to Baikal really helped me stand out. Having the opportunity to also intern with Human Rights Watch was fantastic and I really appreciated that SRAS was helpful in finding internship opportunities and how SRAS works with each student so that they can get the most out of their experience.
SRAS: Thanks! Again, always glad to do it. So, you are also a member of Young Professionals in Foreign Policy as well as the Eurasia Foundation Young Professionals Network. What advantages do these organizations give you?
BM: Both Young Professionals in Foreign Policy and Eurasia Foundation's Young Professionals Network have provided great opportunities to meet new people around the DC area with similar interests, and learn more about both the issues I focus on as well as some I didn't know as much about. The networks also provide great professional development and job opportunities. I have had the opportunity to meet leaders including journalists, policy experts and former ambassadors as well as make some new friends.
SRAS: What first got you interested in Russia and Eurasia?
BM: Growing up, I was always interested in history and Russia's history specifically fascinated me. My interest never really went past that until I went to study at the University of Richmond. Students in the Arts and Sciences school were required to take two years of a language and I thought Russian would be interesting. While the language wasn't easy, I loved learning more about the country's history and culture. From there, I decided to major in Russian studies and my interest really took off.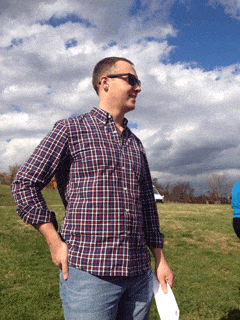 SRAS: What is the most interesting experience you've had abroad?
BM: I'd have to say the Trans-Siberian Railway was the most interesting experience. Traveling by myself, the trip was the first time I was forced to rely solely on Russian, and I ended up meeting some really interesting people from all different backgrounds along the way. I befriended a man from Yekaterinburg who, along with his wife, gave me a tour of the city and the burial site of the Romanov family. I ended up in a cabin one night with only one other man, his bottle of cognac and a few fresh cured fish, which became our activity for the evening. I met migrant workers from Central Asia who were returning home after a summer of work around Moscow, and a number of other people with very different perspectives. Through my interactions and discussions with all of these people, I felt like I gained a unique perspective on Russia doing something that few have the opportunity to do.
SRAS: Awesome! And what advice would you give to other students looking to study or intern abroad?
BM: My advice would be to find a program that really interests you and make sure you really look at all the opportunities out there. Studying abroad is great opportunity and it is worth some additional effort in the beginning to make sure you fully take advantage of everything that is being offered instead of just going with a program because it is easy.