Beautiful Green/Прекасная Зелёная
http://labelleverte.ru/
Моховая Улица 41
10:00-23:00 weekdays
11:00-23:00 weekends
Meals from $7
Прекрасная Зеленая (Prekrasnaya Zelenaya; Beautiful Green) Café filled a hole in my heart I didn't even realize was there. Everything about this place is heartwarming and I cannot recommend it highly enough.
I discovered it on a cool Saturday afternoon in March, I was searching the Internet for cafes to study for an exam and Prekrasnaya Zelenaya was nearby and inexpensive, so I decided to check it out. It is a vegetarian café by name, and also offers many vegan options with eggless omelets and soy milk lattes, but omnivores have no fear- there are several menu items with meat! The menu in fact looks a bit like a children's scrapbook with paper pages inside a small decoupage binder. It is extensive, serving breakfast all day (from oatmeal to omelets), sandwiches, salads, soups, and slightly more expensive hot meals (pasta, stuffed peppers, eggplant soufflé). They incorporate interesting ingredients such as Adyghe cheese and local greens into the dishes, coming up with unique flavor combinations.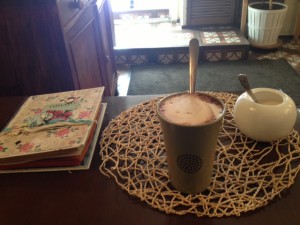 I ordered a какао (hot chocolate) for 120 rubles and an omelet for 150. For less than $10 I was completely full, and delighted by my lunch! My omelet was more like crumbly scrambled eggs in a bowl, but with fresh, warm tomatoes, strong Adyghe cheese, and a sprinkling of greens it was delicious. My hot chocolate came in a tall glass (bigger than most I've had in Saint Petersburg) with a thick layer of soy milk foam on top. Everything was delivered hot and quickly, the only waitress in the small café was busy but I never felt neglected. I eyed the table of women next to me as they enjoyed some incredible looking desserts- cheesecakes and brownies and pudding, oh my! The menu also offered traditional Russian desserts like syrniki (cottage cheese patties) and vareniki (filled dumplings), along with intriguing offers of "basket of figs, coconuts, and wood berries" and Indian samosas. Desserts came in at under 150 rubles ($5). The menu also had a section especially for Italian-inspired dishes.
My favorite part of the menu was the drink selection. Your typical offerings of coffee and tea were represented, along with milk-cocktails (not an American milkshake, more like flavored, frothy milk), and hidden in the back few pages was a list of "fruit-berry-vegetable cocktails." Self-described as "delicious and very nutritious," these drinks cost about 185 rubles and are similar to American fruit smoothies- which I have been craving the past couple of weeks!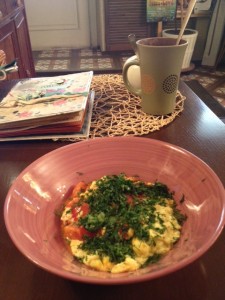 The décor is comfortable, casual, and a little bit quirky. The silverware comes wrapped in a napkin tied with a piece of hemp string, live plants sit in the window, and countryside cottage trinkets- pinecones, homemade dolls, potpourri- line the walls. The front section has a few comfortable booths and there is a back room with bigger tables that can be booked for group meetings. Most people were chatting and eating, but I felt fine working on my laptop. Speakers softly pipe in jazz and lounge music. There is a bulletin board plastered with advertisements for events and a sideboard covered with business cards from local entrepreneurs.
Honestly, I felt more at home at Prekrasnaya Zelenaya than at any other café I have visited in Saint Petersburg; maybe it reminded me of my favorite café back home, maybe it was the friendly waitress who helped me get my Russian cases right as I ordered, or maybe it was the beautiful sunny day I enjoyed through the windows, but in any case I have fallen in love! Do yourself an affordable, adorable favor and stop by Prekrasnaya Zelenaya while you're in Saint Petersburg. I promise you won't regret it!
For groups and faculty-led tours, try the back room, good for 10-12 people.