Located downtown and a short walk from the central market is The Decembrist's Bar or Bar Dekabrist. This local hangout is perfect for a night out with friends. The atmosphere is quite different from that of most other local bars and is more of a "hipster" vibe with a very comfy feeling. It is also much cleaner and safer (in my opinion) than many other options as well. The bartenders are friendly and always willing to give recommendations.
The modern layout gives the small bar lots of space and is set up well for large groups. There are cards and board games such as monopoly available for no charge near the bar. There is also a large, wall-art menu featuring their many beers. Often there are local bands who play giving a taste of local music and culture. Another major plus is that this bar caters to a younger crowd which makes it a great place to meet locals and practice your Russian.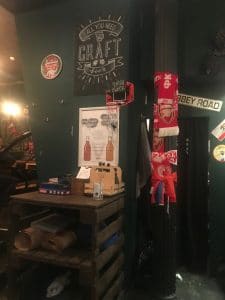 There is food available at a pretty good price, but a very small selection – and I would actually recommend eating elsewhere. There are two hamburgers and a few different cheese options. There are also peanuts and sukhariki (сухарики), which are similar to croutons. The beer is great but the food really leaves something to be desired.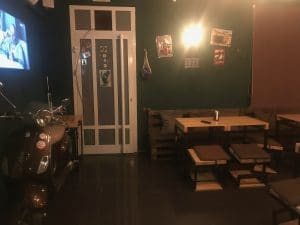 Each day there are different beers featured and they are known for their high-end German and Belgian beers. You can get a half liter of beer for about 6 dollars which is definitely on the pricy end for Irkutsk. While the price is higher than many other local bars, the quality is very high and there are many options that are hard to find anywhere else. In addition to high quality, the alcohol content on many beers is much higher than normal with some reaching 14+ percent. Look at the label or ask before buying as it is very easy to get carried away without realizing it. In addition, remember to always go with someone anytime you go out drinking in a foreign country. Although I always have felt safe and have NEVER had an issue, being a foreigner surrounded with inebriated locals (especially older people) can make a fun night go bad. Just remember to have fun and use common sense.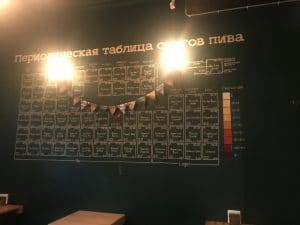 Bar Dekabrist is the perfect place for a hangout. I highly recommend trying this place at least once.
Bar Dekabrist
Kievskaya Ulitsa, 7
Hours: M-F 2pm-11pm Weekends: 2pm-2am
Minimum budget: 5-10$