Let our Vladivostok students let you know what to expect when arriving to Vladivostok! Heading abroad is always a big step and can feel exciting or overwhelming – or both. Learn from the experience of others and hit the ground running!
How did you feel when you first arrived?
H. Lee Sullivan (Spring, 2022): Arriving in a new country is an experience filled with emotions. On one hand it is exciting to hear the language, meet the people, and see the city. On the other hand it is scary being surrounded by unfamiliarity. I saw darkness looking out of the airplane window, however the sun had risen by the time I left the airport. At that point I had been traveling for almost 40 hours and was very fatigued, so sleep was the first thing on my mind.
Morgan Henson (Spring, 2019): Traveling abroad to an unfamiliar region can be scary. When logistical problems outside of your control happen it is easy for fear and panic to set in. After 46 hours of traveling with multiple layovers, I was tired, but arriving at the airport in Vladivostok was a fairly smooth experience. I got off the plane, walked to passport control and waited in line with the other passengers.
How did things go at the airport?
H. Lee Sullivan (Spring, 2022): I flew from Washington D.C. to Moscow, then from Moscow to Vladivostok. Passport control in Moscow was a breeze. I received my immigration card and got through airport security without a problem. However, the eleven hour layover in Moscow was brutal. The flight from Moscow to Vladivostok was packed, so unsurprisingly the baggage claim at the Vladivostok Airport was chaotic. Once I managed to collect my baggage I met Nastya, my assigned SRAS contact, who was waiting right outside the exit. She introduced herself and helped get a COVID test. It was very comforting to know she would be helping me throughout the semester.
Morgan Henson (Spring, 2019): There were a number of people on the flight, so the wait was a bit long and the airport does not have Wi-Fi, so I could only stand in line and look around at the passport control station. Once I arrived at the window, I gave the agent my passport. She examined my visa and after a few minutes I received my passport back with a migration card (it is very important that this is not lost. You will need it for the university registration).
Prior to arrival, the university here in Vladivostok assigned me a "buddy," a Russian university student who is here to help acclimate me to the city and the university, who emailed me and told me that she would be waiting for me at the arrivals gate holding a sign with my name on it. I walked over to her and asked about Wi-Fi, so I could inform my family back home that I had arrived safely. She took me to a phone kiosk in the airport so I could purchase a Russian SIM card, but we quickly discovered that my phone will not accept foreign SIM cards. Apparently, this block is installed by the subscribed phone company (Sprint, T-Mobile, Verizon, etc.) and not the manufacturer (Apple, Google, etc.). So, before you leave the United States, if you want a Russian SIM card, make sure that your phone does not have a block and, if it does, that your phone company removes the block on installing a new SIM card. The International Office can supply you with a simple cellphone and SIM card, as part of your SRAS program, so it is not completely necessary to have a Russian SIM card in your phone, but if you don't want to carry around two phones, make sure you research the block.
How was the transfer to and arrival to the city?
H. Lee Sullivan (Spring, 2022): Nastya oversaw my ride from the airport to the university. She knew a lot about the city and explained the major sites we passed. Checking into the university feels like a blur, even though it was only a few days ago. Nastya escorted me to the check-in area where I signed several papers and received a key to the dorm. I also received a little green paper for access to and from the dorm, which was later replaced with a much more convenient student I.D.
I did not unpack anything my first day. Instead, I made my bed and slept for as long as my body would allow. This was easy because my roommate was away for the weekend, so I had the dorm to myself. When I met my roommate the next day, it was an unpleasant experience. I walked into the room and over to my desk without removing my shoes. (I did not know that it is unacceptable according to Russian culture to wear shoes inside.) She expressed her frustration in quickly-spoken Russian, none of which I understood. It took some time for her to warm up and finally speak to me, but things got better from there.
I received my COVID test results 24 hour after my arrival. At that point, Nastya drove Ben (the other SRAS student) and I to the mall for groceries and cookware. I also purchased a heavy winter coat at the mall. My home university is in Florida, which does not have a large winter coat selection. I waited to buy one when I was in Vladivostok, assuming that I'd be able to try on coats from a larger selection and that it would likely be cheaper and better looking. Side note – I was shocked by how good looking Russians are. It seems they pay close attention to their appearance, even for minor events like going to the mall.
Morgan Henson (Spring, 2019): From here, my buddy, our driver, and I drove to the dormitory. The ride was about 30 minutes and it was nice to see a bit of the countryside before actually driving into the city. Upon arrival, my buddy and I walked into the dorm and things became a tad superfluous, but everything eventually worked out. The dormitories have two sets of security/access points: the first is upon arrival and the second is upstairs where the dorms split into dorm 1 and dorm 2 (understandably, the people who live in each dorm only have access to the dorm in which they live). The guards required me to open my bags for inspection and then allowed me to walk through the check points to my dormitory. My buddy brought me to the woman in charge so I could check in, sign paperwork, and pay 300 rubles (a deposit that will be returned) for the dorm keys. I walked upstairs to my room and moved my clothing and other items into the shared space with my roommate. The room is smaller than the U.S. college dorms I've seen and there are more shared items (for example, there was one desk and one wardrobe for two people), but that is part of the experience! I am in dormitory two, where I only have one immediate roommate, but share a bathroom and a shower with one other room of three guys.
How was your orientation?
H. Lee Sullivan (Spring, 2022): Orientation was an unorganized process. Nastya helped me set up my room and showed me where the local grocery store is. Every floor has a kitchen, which is easy to find. However, there were many things that were not explained well, like where to take trash or do your laundry. I had to ask for that information. Setting up the Internet is simple if you have a bank card. Unfortunately I only had cash, as I was waiting for money to be transferred to my card. Ensure that you have a card with money on it so your Internet can get set up.
Morgan Henson (Spring, 2019): After this, my buddy walked me to the nearest grocery store, so that I was familiar with where to get food, and then we made plans to meet the next day. I arrived on a Thursday night, and the paperwork that accompanies receiving an ID (for university and dormitory access), as well as paying for Wi-Fi were not open until Monday. I went out on Friday and bought a portable internet modem so I could have Wi-Fi and contact my family and friends for the weekend (altogether, about $50). If you do not plan on unlocking your phone and you arrive later in the week or on the weekend, you need to prepare for the fact that you will be in a foreign country without any connection to home for a few days- unless you want to spend extra money like I did. You can also contact SRAS in advance to notify your family that you've arrived safely.
Orientation was not given all at once or in a very structured format like in the United States. Your buddy and the international office provide general information and paperwork (safety procedures, ID card, classes, Russian proficiency exam, etc.), but if there are specific questions you have concerning anything, speak up. For example, I had questions about where to send mail (my mother wanted to send me a care package from home), but mail information is generally not part of the orientation itself.
How was registration and starting classes?
H. Lee Sullivan (Spring, 2022): A few days after my arrival I took a language placement exam. A few hours later I received my schedule, which had three to four hours of Russian instruction each day Monday through Thursday. My first class went well. Some of the instructors do not speak English and will expect you to speak to them exclusively in Russian. I suggest bringing a snack and water for the ten minute break.
That same day Nastya showed me to the international office to register my visa. I received a paper copy of my passport and migration card to carry with me.
Morgan Henson (Spring, 2019): The campus is a bit of a maze and it's very easy to get lost in your first few days. Your buddy will be with you through the medical examination, receiving your schedule, showing you where your classes are, where the international office is located, and how to get from the dorm to the university without needing to walk outside; but it will still take some time.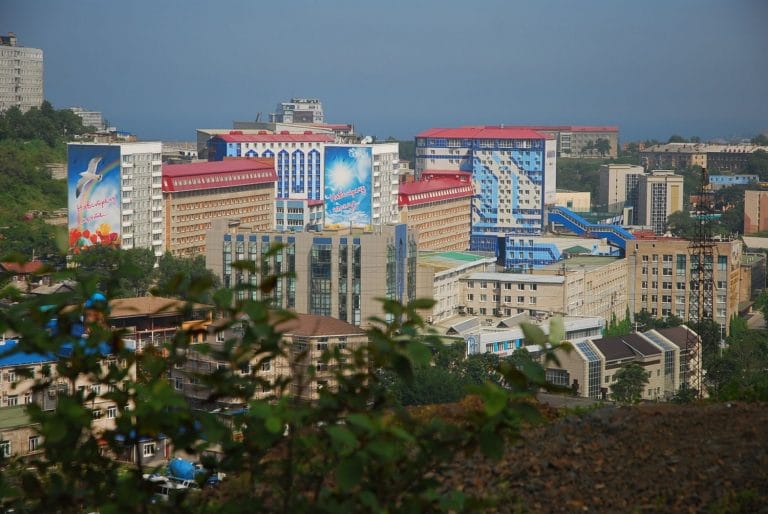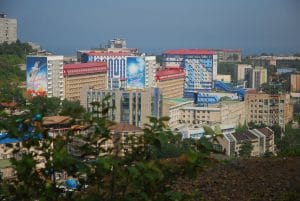 As mentioned above, Internet was not provided when I first arrived on campus, but the international office will register you and once they do, you can ask for help with getting it set up. On the third floor, there are registrar windows and when you ask to pay for Internet, they will give you a chart and you simply choose which option you want. There are multiple options based on the number of electronics you want to connect. I had my phone, my iPad, and my laptop, so I chose the most expensive option that provides unlimited access for up to three devices. By US standards, the Wi-Fi is quite affordable, but if you're on a budget you may wish to limit the number of electronics you bring with you.
Any other necessities that you believe you'll need, feel free to ask your buddy or the international office. Everyone is there to help you find whatever you need.
Visa and university registration was quite smooth upon arrival. On the first meeting, the international office makes a copy of your passport and your visa for you to hold and they keep your passport for about a week to register your visa. When they return your passport, it comes with the registration document. Do not lose any documents you are given.
Class registration was also simple. On the first Monday after arrival, the international students met in a large room with computers and we took a Russian placement examination (reading comprehension and grammar). Later that day, we received our placement and our general Russian language schedule. At first glance, the schedule may seem intimidating, but after a week or so, the schedule becomes familiar and more manageable. For example, I was placed in higher level Russian classes and given ten 1.5-hour long lessons across grammar, speaking, listening comprehension, and professional Russian. Initially, I thought this was too much, but now I am comfortable with the course load and even took on two more political and economics courses.
The international office is extremely helpful in this respect. If you feel that you have been misplaced, either too high or too low, they will work with you and the professors to find an acceptable, but challenging level for you. But be sure to voice any concerns you have early in the semester so that the international office can fix them sooner rather than later.
Having gone through all this, how do you feel?
H. Lee Sullivan (Spring, 2022): The journey to Vladivostok and my first few days here were rough. I cried more than once and questioned my decision to study abroad in the Russian Far East. Things got much better once I was able to explore the city and become accustomed to the language barrier. Vladivostok is a super cool city with lots of things to do. I look forward to living here for four months and can not wait to see what adventures await me.
Morgan Henson (Spring, 2019): Overall, this experience has been challenging – usually in the realm of patience, but in other ways as well. There were moments I was unsure about whether or not I made the correct decision in coming to Vladivostok instead of Moscow or St. Petersburg, but I can say without a doubt that this was the correct choice. It's smaller than both Moscow and St. Petersburg, but that makes it much easier to navigate and gives the city a much more relaxed feeling. In my opinion, more people should visit Vladivostok and experience the true uniqueness of this Far Eastern capitol; or, as many Vladivostok natives will tell you, "see the one city on Earth that has managed to bring Europe into the heart of Asia." I hope this explanation has helped prepare those of you traveling to the region and settle some of the fears about what will happen once you arrive. Good luck and get ready for an amazing time!