Антикафе "Отдел Культуры" // Department of Culture Anti-Cafe
Светланская ул., д.5 // 5 Svetlanskaya Street
Monday 6:00pm-12:00am
Tuesday 12:00pm-4:00am
Wednesday 12:00pm-12:00am
Thursday 12:00pm-12:00am
Friday 12:00pm-4:00am
Saturday 10:00am-4:00am
Sunday 10:00am-12:00am
Coolest Hangout Spot in Vladivostok
anti-cafe.org
One of the coolest places to hangout in Vladivostok happens to be part of the anti-cafe movement. The "Department of Culture" Anti-Cafe on Svetlanskaya street, known to everyone here as just the "anti-cafe", is the first of the time-purchasing cafes in Vladivostok. Why call it anti-cafe? Because tea, coffee, and tea treats are all free; you can eat/drink as much as you want. The only thing you pay for is time. When you first walk in, the attendants give you a card. They scan it and you are free to do whatever. Available to you are a variety of games, puzzles, books, and couches. There even is an Xbox 360 and a couple of televisions. Oh, and of course, there is free Wi-Fi. The place is created for the sole purpose of lounging around and interacting with other people.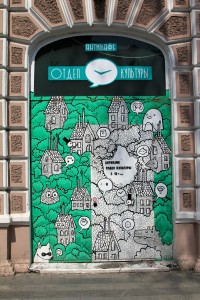 So yes, all you pay is for the time you spend. On weekends and Fridays, it is 3 rubles a minute. Weekdays before 5pm, it is 2 rubles a minute; after 5pm, also 3 rubles a minute. The place is spacious, decorated with surrealistic cartoons and poetry. It possesses a hip and quirky aura that reminds me a lot of Austin, Texas.
Remember that the anti-cafe is created for social discussion and interaction. The cards you are given to track your time have green on one side and red on the other. Green side up means you are available to chat and/or play. Red side up means you're in a conversation and/or don't want to be disturbed (if you're reading or something for example). You can also use the cards to purchase specialty items, like Red Bull or Dr. Pepper. They charge minutes (for example, Dr. Pepper costs 17 minutes or 51 rubles on weekends). The charging method is kinda confusing, because it gives the appearance that it is cheaper than it should be. On weekends, prices are more expensive (having to pay 3 rubles a minute and all), however specialty items are discounted during times of the week that they charge 2 rubles a minute. So, keep in mind that.
How did I find it? I was meeting in the cozy Five O'Clock with a friend of mine where I bumped into Australian Maddie and French Cécile, members of an international rotary exchange program here in Vladivostok. I joined them as they were cafe-hopping around Vladivostok. Because of their accents, I thought they were saying "Auntie Café," thinking it was a strange traditional Russian family cafe. When we finally came to the outside… The outside, well, I didn't even know it was a door. Check it out for yourself. I thought it was just a piece of street art.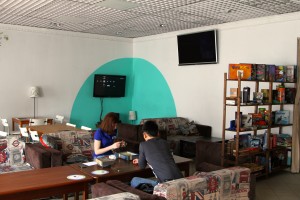 Once you find the front door on Svetlanskaya, you'll walk up two floors of art-graffitied walls before you come to a simple, unmarked purple door. It will look slightly sketchy coming up; the floor was dirty, the place looked unused. But after you pass that purple door, everything gets better. When I visited, I simply kept with the free stuff, drank some tea, ate some strawberry and chocolate tea biscuits. I stayed for about an hour and a half, so my final cost was 228 rubles (about $6.50). But snacking on the biscuits, I was good to skip lunch. This place could definitely hold 12-20 person group (because there is a second room set up with a projector and bean bags, a room I assume is made for watching movies). I would even go far enough to say that the more people you bring, the more fun this place will be. Doing some research, it looks like if you join the community on VK (with the link at the top) you can get updates on when concerts, movies, and RPGs occur.
Takeaway – The anti-cafe is the place to hang.
(+) – large space, free wifi, free food and drinks, a multitude of games, friendly environment, artsy aura
(-) – remember prices are confusing so remember to watch what you buy
5/5 – because it's the first place in Vladivostok actually geared towards social interaction specifically for young people