Adriano Coffee
AdrianoCoffee.kg
87 Isanova Street/Исанова 87
Open 24 Hours
Tea and Coffee for $1.50-$2.50
Meals for $2-$6
Bishkek is full of comfortable, wifi-equipped coffee shops, where you can spend hours with your work and a pot of tea without getting any dirty looks. Cafés are particularly pleasant this time of year, when most are decorated with snowflakes and ornaments and ёлки (New Year's trees). Lately, I've been enjoying the holiday atmosphere at Adriano Coffee.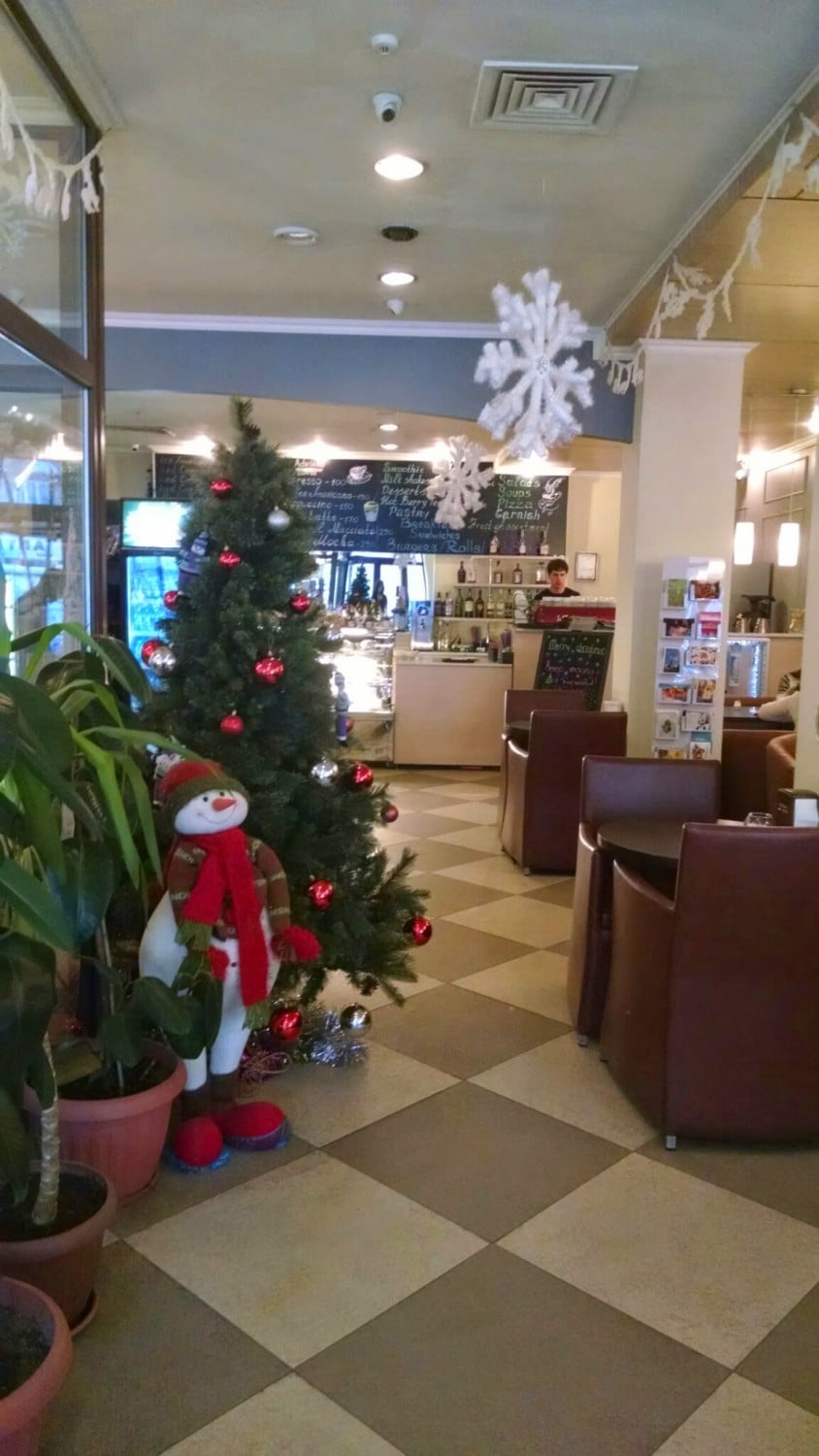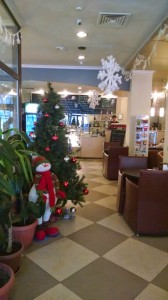 Adriano has three locations in Bishkek. The central location, and my favorite of the two I've visited, is on Isanova Street, barely more than a block from the very popular Sierra Coffee on Manas. Like Sierra, Adriano is a favorite spot for (mostly English-speaking) expats, and the wait staff speaks excellent English. It's not quite as popular as Sierra, though, and is usually less crowded despite being much smaller.
There are a few things I particularly like about Adriano, the first being its tea selection. Like at Sierra, a pot of tea at Adriano goes for 100 som ($1.70), but there are more varieties to choose from. My favorite is green tea with ginger and orange. Other interesting flavors among the 20 or so offered are karkade (hibiscus), Golden Monkey, and green tea with jasmine.
Adriano also has extremely comfortable chairs, which is important for hours-long work sessions. The seats at the café's smaller tables are firm but well-cushioned armchairs. Larger tables have couches on either side. The main seating area is non-smoking, and there is a second, glass-walled smoking room, making this café, like Sierra, a rare smoke-free environment in Bishkek. Adriano's wifi is fast and reliable, and the cozy café is open 24 hours a day.
I usually go to Adriano for the tea and the atmosphere, but they have a full food menu to choose from, too. Vegetarian options include a very good vegetable omelet, tasty blini (pancakes), oatmeal, salads, pasta, and pizza. For meat-eaters, there are hamburgers, sandwiches, wraps, and soups. There are also a wide variety of pastries. I almost never drink coffee in Bishkek – I'm trying to use the constant flow of tea to break my coffee habit – but I tried Adriano's Americano coffee, and I found it strong and delicious.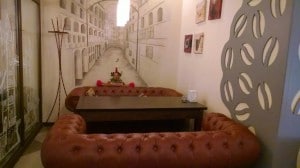 Adriano's ambiance is peaceful and low-key, with plenty of light and cream-white walls decorated with delicate sketches. There are two small rooms off of the main room for more private studying or visiting, and in general I find the seating here, even in the main section, to have a private feel.
For groups and faculty-led tours
Adriano is a good place for groups, as long as the members of your group don't mind the coziness of sharing couches. The largest tables can probably fit eight people comfortably, and there are a number of slightly smaller tables that can easily seat six.