Adam Brunets is Global Trade Control Specialist / Lead for Russia with Boeing. Originally from Ukraine, he immigrated to the US with his parents. He studied international business with SRAS in 2005 at Moscow State Institute of International Relations (MGIMO).
SRAS: You are currently a Global Trade Control Specialist / Lead for Russia with Boeing. Can you tell us, in a nut shell, what this position entails?
Adam Brunets: In my role, I am dealing with the international trade laws and regulations related to exports and imports. This requires partnering with the business stakeholders, industry associations, and regulators on both US and Russia sides to make sure transactions are compliant.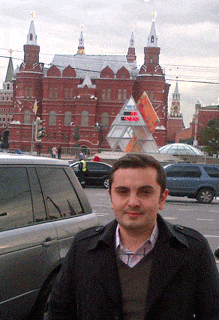 SRAS: You studied abroad through SRAS at Moscow State Institute of International Relations (MGIMO). Can you discuss what that program was like, what you learned, and how this helped, if at all, to prepare you for your future work?
AB: Study at MGIMO through SRAS was that pivotal point for me that led to the decision to stay on the policy side of international business. I was already interested in international trade but I wasn't sure what aspect and my experience at MGIMO, one of the premier institutions on international politics in the former USSR, allowed me to better evaluate this area and make the decision. After the program I joined World Affairs Council, then Washington State Department of Commerce, and finally The Boeing Company where I am now dealing with the international trade policy on the daily basis.
I should say that the SRAS program for MGIMO is one of its kind. Everything was well organized and I never had issues with getting my concerns addressed, which if you know the Russian way of doing business, is always a challenge. The program was well appreciated by MGIMO staff and we were treated with respect. We had plenty of flexibility in what we wanted to study and I was able to have classes with the international student like myself, I was able to join regular classes with current MGIMO students and I had private lessons from some of the top professors in their fields. So the program can be tailored to anyone's specific need which aligns with the definition of "visiting scholar" – you learn what you want to learn.
SRAS: Great to hear that you had such a good experience! Can you talk a little about your time as a project manager for World Affairs Council (WAC). What does this organization do and what did you do for them?
AB: WAC is a Seattle-based non-profit organization focused on promoting knowledge and understanding of international events and culture within the local community. I supported various programs by coordinating special events with international and local government officials. I also managed World Citizen Essay Contest with the goal to promote discussions among students, teachers, families, and community members about the ways that individuals can effect positive change in the global community.
SRAS: You started your college experience with an Associate's Degree in Accounting from Lviv Polytechnic National University in Ukraine. Why did you decide to do a degree in accounting in Ukraine?
AB: I liked numbers and business so somehow accounting sounded like a good fit. Plus, finding an accounting job didn't sound to be so difficult at that time. I later learned that the accounting field in Ukraine was predominately occupied by women. My class composition had a ratio of female vs. male students that was about 10 to 1 but this is a different story.
SRAS: What was the enrolment process like for Lviv Polytechnic? Would you say that the classes (teaching style, material, languages used) differed strongly from what you find in America?
AB: Ukraine didn't have standardized college admission exams such as SAT so every educational institutions required own unique entrance exams to be taken. This was the biggest challenge as you had to prepare for each exam separately. In terms of classes, there was much more theory vs. practical skills. I think it reflects the general approach to education where students get more generalized education to be well rounded as opposed to learning strict technical skills. I recall taking mandatory classes in Sociology and Philosophy along with Taxes and Audit.
SRAS: In addition to your current employment, you are also seeking an MBA from Seattle University and have earned certificates in various fields such as international credit and finance and global supply chain management. I trust, then, that you are continuing to seek and peruse the opportunities that an international education and mindset can offer. Where do you see yourself in five years?
AB: I consider myself a lifelong learner for both personal and professional reasons. I stick with the international field as it helps to enhance my knowledge about my profession and in the same time it allows me to stay current on were the industry is heading and to stay relevant to the current business environment. In this age with so much information readily available over the web, in order to be successful, one must be a well-rounded professional to be able to offer a global perspective and have a high level of cultural intelligence. My future plans are to stay in the international trade industry and focus more on policy and high level strategy setting for international business dealings.
SRAS: What first got you interested in Russia and the former USSR?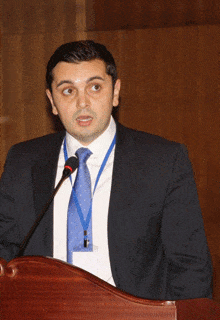 AB: Being originally from Ukraine, Russia and the former USSR was already relevant in my life. I decided to continue in this direction because I saw an opportunity to fill the niche as cultural and state affairs of Russia were often misunderstood. Having language skills and background, I was able to set myself apart as someone who can contribute knowledge and understanding of the mindset, culture, and political environment.
SRAS: What is the most interesting experience you've had while abroad?
AB: Not that long ago I went to visit one of the Boeing's partners in Verkhnyaya Salda, a city some 120 miles north of Yekaterinburg. The city is known for hosting the world's largest titanium production plant. It supplies Boeing with a number of aircraft parts made out of titanium. The city is about three hours' drive from the Yekaterinburg's airport during which you get to see a real beauty of the Ural mountains, but the most amazing part is the actual city that is a blend of industrial facilities and residential houses, many of which are over a century old and still preserve distinct architectural attributes that I previously only saw in the magazines and books. This was really something to remember.
SRAS: What advice would you have for other students hoping to study abroad or work abroad in Russia or Eurasia?
AB: Russia is a very unique country that has a lot to offer. It is a place with very distinct blend of its own heritage combined with the rapid influence of the West. In my opinion, people are still trying to find that balance between how much to preserve and what to embrace. Because of this mix, someone studying in Russia can find the comforts of the Western world, but in the same time gain great exposure to the culture that can be a life changing. But keep in mind, these days fluent Russian, while important and valued, is not in and of itself a sufficient qualification; someone who studies Russian language in Russia or any other CIS country should get as much experience in the country as possible. For instance, during my program at MGIMO, I also did an internship at the local freight forwarding company. So, while there, get engaged outside of school, find activities that interest you and get involved. Museum excursions and galleries are great for enrichment, but they will not help you with your resume.