Abyssinia
Rynek Nowego Miasta 21
Mon:   3:00 pm – 10:00 pm
Tue-Sun:  12:00 am – 10:00 pm
Average Price: 30 – 55 zloty per person
(~$8 – 14.75 USD)
Find them on Facebook
When walking through Warsaw's Old Town, you pass by street after street of traditional Polish restaurants, countless variations on the national dish of pirogi. Although Polish food is definitely a must-have, the sheer concentration of traditional restaurants in Old Town can be overwhelming. Going north from Sigmund's Column, by way of ul. Freta, you'll find the New Town Market, a large open square that usually has a small group of merchants selling crafts and local goods. Tucked away on the side of this square is an eating experience that is completely unexpected, but absolutely worth a try. My boyfriend and I were wandering around Old Town for a place to eat, stumbled upon Abyssinia by chance, and decided on it out of curiosity.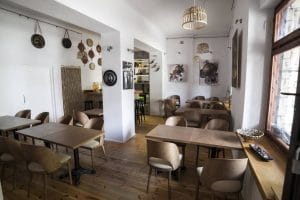 Abyssinia is an authentic Ethiopian restaurant that provides incredibly unique dining just outside of Old Town. As soon as you enter, you see the atmosphere of the restaurant is very warm and pleasant. The walls are decorated with traditional art and photographs, and popular Ethiopian music plays in the background. The staff who greeted us were welcoming and genuinely friendly.
Completely unfamiliar with Ethiopian cuisine, we asked our server, who happened to be the owner, what he suggested. At his recommendation, we ordered the Combo for 2 (Polish: Zestawy, Abyssinia kombo, dla 2 osób), priced at 95 zloty (~$24.58 USD). We quickly learned that Ethiopian food is traditionally not eaten with any utensils; you use your hands to pick up all of the food with pieces of bread. It can be a bit strange to get used to, and the owner said that you can have some utensils if you want or need, but they highly recommend at least trying out the traditional style first. We were soon brought two small bowls of water with lemon and a few napkins, which we used to wash our hands.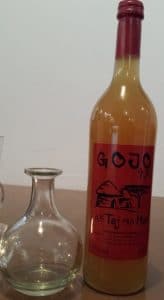 Abyssinia's Combo for 2 (pictured below) is served on a large tray that takes up nearly the whole table. The dish has 3 meats: chicken, lamb, and beef, all flavored with a variety of unique Ethiopian spices. The rich flavor is unlike anything else, and packs a bit of heat as well. Cottage cheese is also included just in case the spice is too much. There are 2 portions of a cabbage and carrot salad, and 2 portions of beans (yellow). In the center is a small salad of lettuce and tomato.
All of the food is served on a layer of injera, a kind of light and spongy sourdough flatbread. Around the edges of the platter are rolls of injera, a flatbread that serves as your utensils. If you're unfamiliar with Ethiopian cuisine such as I was, this is a new and exciting experience. After unrolling the bread and tearing it into smaller pieces, you use the pieces to pick up the other foods. My boyfriend and I were ecstatic through the whole lunch, saying "this is the coolest meal I've ever had," and "I'm so glad we picked this over pirogis" about every three minutes.  The portion sizes at Abyssinia are substantial, so you will absolutely go home with a full stomach, and likely with some extra food to take home as well.
For our drinks we ordered their house lemonade, and we were also fortunate enough to try the traditional Ethiopian drink called tej. Tej is a kind of honey wine or mead which generally has an alcohol content of 6-11%. This particular kind had 11%, but its sweet honey flavor masked any other taste. The drink is traditionally served in a small flask-shaped glass called a berele, which is supposed to be held by only your first two fingers under the neck of the glass.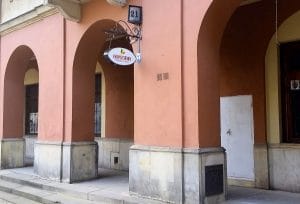 After the meal, we were fortunate to have a small conversation with the owner, Matt, a London native of Ethiopian descent. He told us about how one of the biggest challenges with running Abyssinia was simply getting people to try it. Because this cuisine is often unfamiliar to tourists, many people tend to overlook it to go for something traditionally Polish. He also hopes to expand the restaurants service to include the sale of spices, as well as expand into growing their own grains, vegetables, and other ingredients locally.
A considerable portion of Abyssinia's menu is vegetarian and vegan, and the injera bread is naturally gluten-free.
Understanding that the price range of this restaurant may be outside the usual student budget, it's recommended to go with a group of friends and order large portion sizes, which helps with the cost. There are combos with meats and vegetarian combos for groups of 2, 3, and 4 that include different spiced meats, beans, and vegetables.
Abyssinia's menu is available online from their Facebook page, however it is only in Polish.