Hoban Restaurant/Кафе "Хобан"
ул. Фрунзе, 539
Price: Lunch Buffet = 250 som
Tel: (0312) 32-31-47
Buffet hours: 11:30am-2:30pm weekdays
Restaurant hours: 9:00am-9:00pm everyday
Back home in the District of Columbia, one of my favorites eateries is a small Indian grocery store/café that offers a $6 buffet. Yep, you heard me right, a $6 buffet. And the food is not only cheap, it is fresh, home-cooked, and — based on the regular Indian clientele — authentic. In a town where most people think you can't get a decent meal for under $10, this buffet is the stuff of urban legends.
Well, Washington legend, I have found your Bishkek equivalent. This past weekend, my SRAS colleague and I went to a Korean restaurant that offers a buffet for just $5! Yep, you heard me right, a $5 buffet! And it is fresh, home-cooked, and — based on the Korean clientele and my own living experiences in Seoul and the Korean Diaspora of Virginia — authentic. And, by the way, based on conversations with local foodies who claim quality buffets are a rarity here, I believe I have stumbled upon something special not only by Washington standards, but also by Bishkek standards.
Dear readers, I introduce you to Restaurant Hoban, my Korean "hidden gem" in central Bishkek on the corner of Frunze and Manas.
For those who are wondering why I am even eating Korean food here, do not be alarmed. I am not skirting the Central Asian experience. There is actually a very big Korean Diaspora in Central Asia. This was begun in 1937 when Stalin deported more than 36,000 Korean families from Sakhalin,Vladivostok, and the Russian Far East to Central Asia during the Russo-Japanese War. At the time, Stalin feared the Korean population in Manchuria and Korea would support the Japanese. Since then, many more immigrants from South Korea have arrived in Kyrgyzstan, especially after the collapse of the Soviet Union in 1991, looking for investment and professional opportunities that such a diaspora helps support. As a result, today there is a strong Korean presence in business, agriculture, the Evangelical Church, and — lucky for me — restaurants.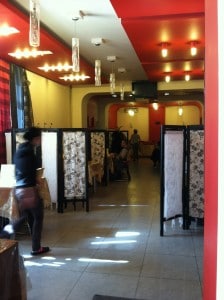 Hoban, translated in Korean as "Lakeside," has all the architectural markings of a hole in the wall. Its exterior is unassuming, at best, with a white-washed gate and a disheveled courtyard entrance that looks like it is under permanent construction. However, the interior is warm and inviting and Hoban is a classic restaurant, not a dive. It has silk-screen dividers, modern light fixtures, and an attentive wait staff that greets you with drinking water. It offers two dining rooms, a Western dining room in the front (there are chairs) and a traditional Korean dining room in the back (there are no chairs). It also enforces a strict rule: You cannot get a second plate until you finish your first plate. As if to confirm my suspicions that this was more than some casual cheap eat for poor, ravenous students like myself, a slew of suits walked in for a business lunch immediately after we arrived.
The buffet has a beautiful spread. Even as I charged the table like a spice-deprived wolverine, I stopped to admire the elegant line-up of dishes before me. It was immaculate, pretty, and precise. Every dish was ladled carefully into spotless glass dishes. All the glass dishes were evenly spaced out, as if measured by a ruler. Even the herbs seem to be sprinkled with the utmost care, as if blessed by the chef himself before they all left the kitchen. It was a beautiful sight. And somehow, some way, I was able to control myself with the portions, keeping Hoban's Golden Rule of Waste Not, Want Not at the back of my mind. As my colleague and I proceeded down the buffet, we chanted, "Easy does it, easy does it."
The dishes were delicious. The banchi, or side dishes, such as the soybean sprouts and pickled carrots, were fresh. The kimchi (pickled cabbage) was spicy. The rice, which most people mistakenly consider a "side dish" but which can actually make or break a meal, was moist. The fried vegetable crisps were addictive. And the hearty chicken and pork dishes, mixed with vegetables, warmed every hungry bone in my body.
The only problem was I thought the squid dish was too rubbery, and I didn't want to finish it. Hmm. If I didn't finish, I ran the risk of being told I could not return for a second plate. And then I would be a very sad Hoban-er. I passed the rubbery squid to my colleague. But he took one bite and winced. So I looked left, looked right, then took the last bits of my rubbery squid and folded it into napkin. I immediately rushed back to the buffet line to avoid the soggy napkin's look of disappointment. Tip for future Hoban-ers: Dine with a larger group. One of them is bound to eat your rejects.
After my second plate, which I happily piled with more pork and chicken (all of which I finished, by the way), I sipped my black tea, leaned back into my chair, and rubbed my satisfied tummy. Now that I know what I like and don't like, I can come back and enjoy Hoban in peace. From now on, this is where I'm going to get my spice fix and Korean food fix. With little ceremony, my colleague and I folded 250 som each (five dollars! five dollars!) onto the table, walked out into the wartorn-looking courtyard, and smiled at the weekend that awaited us. Good stuff. Great stuff. Hoban, we will be back.