Rolling Stone Club
Болотная набережная., 3 строение 1
Hours of Operation: 21:00-7:00
Cost: Free entrance, 200+ rubles per drink
There are many nighttime destinations that foreigners have on their list of places to visit in Moscow, and the Rolling Stone nightclub and bar is one of them. Rolling Stone was opened in 2009, and was the first nightclub/bar in the Red October (Красный Октябрь) area. This area is the site of the famous, former Red October chocolate factory in the middle of Moscow. It and the immediate surrounding area has now been repurposed into an urban revitalization project. It has since become home to a number of cafes, clubs, art galleries, second hand shops, and more.  The first level of Rolling Stone itself consists of a large, second-floor bar, which resembles a typical American sports bar but possesses more of a night club element. Its upper level is much more of a nightclub and resides in an enormous space in the same building on the top floor. It has a large dance floor and, in warmer weather, an outdoor patio.  It's flashy decorations, including posters of various Rolling Stone Magazine covers and numerous hanging disco balls likely lend to its popularity.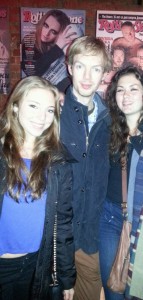 Inside it is possible to meet people from many different countries—mainly from Russia and European countries—and of many different ages.  It is also here, and, likely, in similar settings around Moscow, that one can see the expressive nature of the young Russian populace. One will not encounter such stern faces as those in a Moscow metro car, or on one of Moscow's streets.  Here the Muscovites smile, laugh, dance, and generally express themselves freely.  This was a side of the town that I had not encountered anywhere else as of yet. As an American it can be hard to accustom oneself to a culture  in which smiling at a stranger on the street is considered odd, it is refreshing to once again be in an environment where such gestures occur and are even welcome. Ironically, people in Moscow nightclubs and in most European nightclubs are actually more expressive and dance more than people in American ones do. It may be a stretch to say, but for Americans who miss their "happy" culture, a night out in Moscow may be the perfect medicine.
If you do not like walking, do not go out at night in Moscow. Furthermore, do not come to Moscow at all. To do anything in this city one must walk, and taking part in its nightlife is not excluded. After exiting the metro there is usually within a 5 to 15 minute walk left to get to the final destination. Always keep in mind that the metro closes from 1:00 to 6:00, so when staying out late, plan accordingly. Try to not take the cabs that wait outside of the clubs; they often overcharge. It is also not generally advised to flag a car on the street for monetary and safety reasons. Instead, make sure to have the number of a reputable taxi company and to call it for a ride home about half an hour or so before leaving the establishment. Doing so assures a reasonable price and a safe ride home.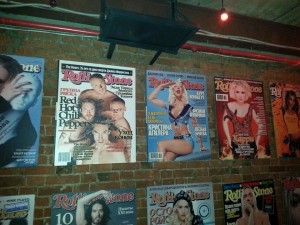 Rolling Stone is situated on a bank of the Moscow River. From University metro Station (станция Университет) one must take the red line (Сокольническая линия) to Kropotkinskaya Station (станция Кропоткинская), walk down Volkhonsky Street (улица Волхонская), pass the Cathedral of Christ the Savior (Храм Христа Спасителя), cross the Patriarch Bridge (Патриарший мост) and continue until Bolotnaya Embankment. One should then turn right onto Bolotnaya Embankment (Болотная набережная) and continue down almost to the end of the walkway. Rolling Stone will be on the right.
The walk from Kropotkinskaya Station to the Rolling Stone side of the Red October area is about one kilometer long and, thus, takes about 15 minutes or more. Always make sure to dress appropriately: bring a jacket if it is cold outside, and wear comfortable shoes.