One of the factors study abroad returnees quote as most highly influential in their experience is the relationships they make with locals. The benefits of making friends with Russians are far-reaching, including everything from language practice to having a couch to crash on next time you're in town. The following is a list of places to go and habits to adopt to help you build friendships that will make your study abroad experience really shine! This list is specific to St. Petersburg, but of course they can all be tweaked a bit and applied to anywhere else you happen to be looking for new friends!
1. Join a team or club
Just like in America, team activities which require people to work together form strong bonds among members. Take something you enjoy doing at home- playing a sport, dancing, singing- and there is more than likely an equivalent group here in St. Petersburg. For help finding it, ask your SRAS program coordinator or search the Russian social network VKontakte.
2. Take a Class
"Master classes" are offered all over the city at places like restaurant/bookstore Biblioteka, Loft Etazhe, and bookstores. Keep an eye on newspapers and Internet ads! Universities also often have courses you can sit in on, even if you're not a fulltime student. Classes can also teach you vocabulary you never even knew you needed in a practical setting.
3. Use Social Networks
Join V Kontakte or explore the Russian side of Facebook! The "Runet" (Russian Internet) is vast and makes up almost 7% of the world's Internet. It is easy to meet Russians and other people living in Russia, keep up with local events, and ask questions (like where to buy taco sauce) through Facebook groups like "St. Petersburg Expats" or "Moscow Students" and by liking pages like "Типичный Питер" (Tipichniy Piter/Typical St. Petersburg) on VKontakte or "365 Things to Do in Moscow" on Facebook. Having a VKontakte profile also makes it easy to exchange information quickly and keep in contact with new friends you meet.
4. Go on blind friend-dates
You only need to meet one Russian to open a floodgate for other potential friends! Ask people if they know anyone they think you might get along with, maybe you share a common interest like sports or a shared hobby, and let them set you up. Plan something simple like a walk around the city center or meeting up at the local coffee shop- if you want a little more activity, look for a coffee shop with board games (Russian Scrabble is always a fun challenge!). Perhaps come up with a general theme for the conversation beforehand- politics, movies, music, life in other parts of the country, etc. If the friend-date turns out to be awkward, no pressure, you got to spend a few hours practicing Russian and getting to know a little more about the people of your city. Don't let fear of awkwardness scare you away, if you can't think of something to talk about, ask them about their favorite places in the city- that way you make conversation and have a list of new places to explore.
5. Say "ДА" (yes)
There's a picnic on Marsovo Pole? –Да
People are getting together to watch the football game? –Да
Students are going to a café after class? –Да
The more you say "да" to activities, the more full and satisfying your time here will feel. You will meet new people, have new experiences, and have less regrets. Of course, use common sense, trust your gut, and don't put yourself in dangerous situations, but the more you push yourself the more memories you will make! As the saying goes- "life begins at the end of your comfort zone", so make "да" your go-to answer.
6. Be bolder than usual
When you meet someone new who you think you might get along with, just say, "Hey, this may be a little bit forward, but wanna go on a friend date sometime? I'm new here, so I'm putting myself out there." And follow up on all your friendship leads! If you had a great interaction with someone, or even just an okay interaction, give it a second chance for something to really blossom. Don't wait around for them to make the next step, ask them out again! Just like dating, if they didn't feel a connection, they'll let you know and you can move on, but if you don't follow up with a potential friend they'll never be anything more than a quickly fading memory. For Russians, forwardness and non-sexual relationships are very common. Don't worry too much about coming off as creepy, pushy, or expectant, and don't read too much into it if a Russian says "давайте познакомиться" (davaite poznakomit'sya; let's get to know each other).
7. If you're single, open yourself up to the possibility of dating
Especially if you're only in Russia for a short time, finding a long term mate may not be the best idea, but casually dating can really widen your social circles! Even if you don't meet any romantic partners who you really click with, you might be able to make friends with his/her friends- I suggest group dates to somewhere like the GaGa Games playloft or a double date picnic at Marsovo Pole! A Russian partner is also an excellent way to practice language.
8. Cultural Events
Art openings. Lectures. Concerts. Museum tours. Author readings. Festivals. Every city has stuff like this going on, and it's usually affordable and often free. Go forth and mingle. See what happens.
9. Language Exchanges/Clubs
There are a plethora of groups set up simply for the purpose of having conversations in a certain language- English, Russian, German, Spanish- they're all here. Joining an English conversation club can help you meet Russians, but be prepared to speak a lot of English! A Russian conversation club will be mostly foreigners, but will likely be led by a local. This is a good way to meet a variety of people from all walks of life, not just college students! Look on VKontakte, Facebook, ask other students, or ask your university's international student coordinator to find specific groups.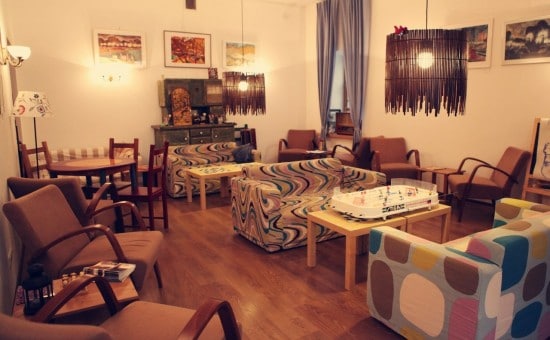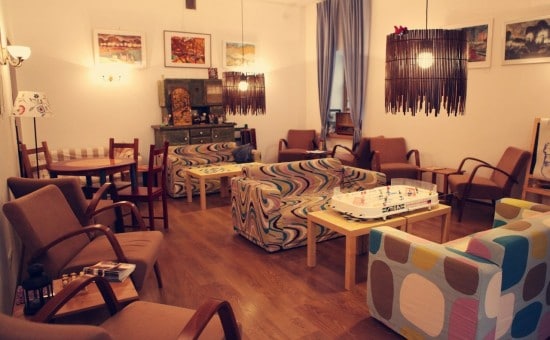 10. Anti-Cafes
A Russian invention and much less common in the States, anti-cafes are often places where young people go specifically to meet new people and talk. Many surprisingly intellectual conversations can develop here, the casual environment makes it easy to start chatting. You pay for your time in an anti-café, and there are usually free tea, coffee, cookies, or other assorted light snacks. Some even have video game systems! Language conversations clubs often meet in anti-cafes and some have open-mic nights. There is a huge variety of atmospheres and edible offerings, so if you find one that's not your style, don't be afraid to check out a few others!
11. Join a Gym
Personal fitness is a growing trend in Russia and more and more people are hitting the gym! With western-style equipment (free weights, circuit machines, and cardio machines are standard), saunas, and group classes widely offered, joining a gym can be a low-pressure way to meet new people. Familiar faces build over time into acquaintances and into people you can ask out to drinks or coffee! Some gyms have special rates for students- ask your program director.
12. Volunteer
There are plenty of volunteer opportunities in St. Petersburg- The Salvation Army and Nochlezhka both are open to new volunteers, animal rescues are also an option. Ask your program director for more opportunities! Volunteering allows you to interact with Russians in a more structured environment while also giving back to the community.
13. Embrace the Cultural Differences and Don't Get Discouraged
There are no real statistics to quote here, but from personal experience: in America if you approach a potential friend you will be successful 4/5 times. In Russia, you will likely get a positive response maybe 2/5 times. These odds may seem daunting, but the point is that you might have to approach 6 people before someone will give you an opportunity. The Russian shell can be hard to break through, but once you do you, you can find a friend for life and make your experience in Russia a memory to last forever.