Primorsky State Art Gallery
Partizanskiy St. 12, Vladivostok
100 rubles admission
On the streets of Vladivostok, I regularly walk past one of the many rectangular, concrete buildings with a small golden sign reading "Primorye State Art Gallery," accompanied by an artsy logo. Admittedly, up to this point, I actually haven't spent much time exploring Vladivostok's museum offerings. But this weekend, I decided it was time to begin changing that.
The Primorye State Art Gallery was certainly a little bit different than I was expecting. The banner outside touted the current special collection "Миг Красоты," or "The Moment of Beauty." I walked in off the street to a small foyer area with paintings lining the walls and a friendly security guard pacing up and down. He pointed me up the small stairway leading to the ticket desk. There I found a kindly old woman who perked up as I walked in. The walls were covered in paintings, various works of still life and landscape.
She asked if I was there to see the exhibition. Of course I was, so I purchased my ticket at the reduced student rate of 100 Rubles after showing my student ID. Then, the woman showed me back out across the foyer to the main exhibition hall.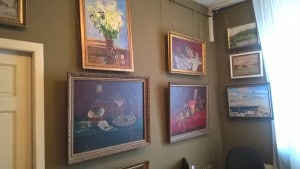 Following her direction, I entered into a not terribly large, but very purple room. The paintings interspersed along the walls were all of the still life variety–bouquets of flowers. The room was well maintained, has lighting for each piece of artwork, and plays some soft classical music to complete the cultural atmosphere. All of the art was created by artists from Primorsky Krai, and most were actually born in Vladivostok.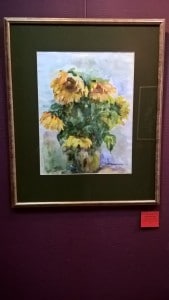 As I slowly perused the collection, I couldn't help but think that its size was a little underwhelming. Surely Vladivostok's art gallery has to consist of more than one room of flower paintings. Nevertheless, I made sure to drink in every painting and even revisit the ticket office, so as to get my 100 Rubles-worth from the visit (that sounds stingy for less than $1.50, doesn't it?). Before I left, the kindly woman behind the desk told me that they will be getting a new collection in April. I wanted to ask if maybe I missed something here, but I was concerned that it would come across more as, "What? that's it?" Speaking Russian delicately isn't currently my forte.
So, I left a bit disappointed. The works themselves were good, but I had expected more. Then, as I started to do some research, I came across a very important point of information: There are two galleries in Vladivostok, and both bear the same name. The one that I frequently walk past on Partizanskiy St. only serves as the temporary exhibition gallery. The other building on Aleutskaya St. houses the primary and permanent collection, which is far larger.
Now, I am looking forward to visiting the full gallery soon. I'll write up the report when I do, but I can already say that it's probably best to see both galleries on the same day. I think the experience will feel more complete.